LawNY Celebrates 50 Years of Advocacy, Equality, & Access to the Justice System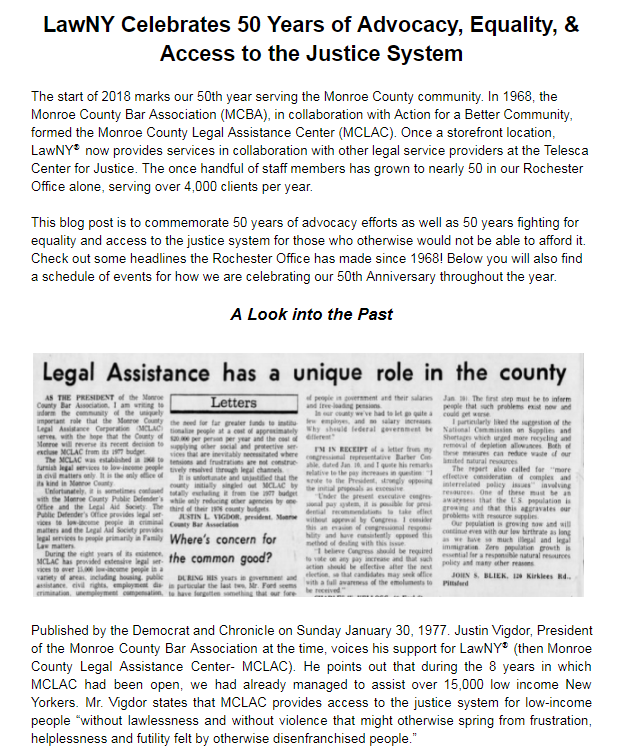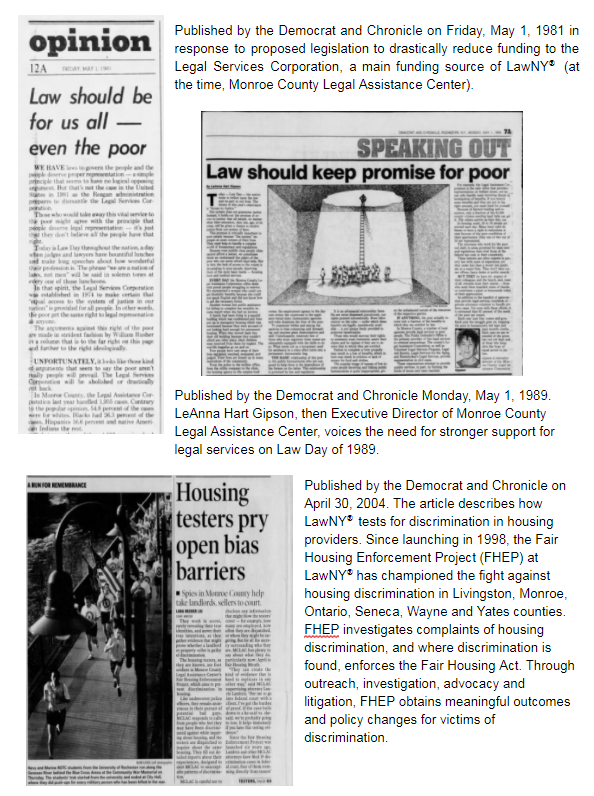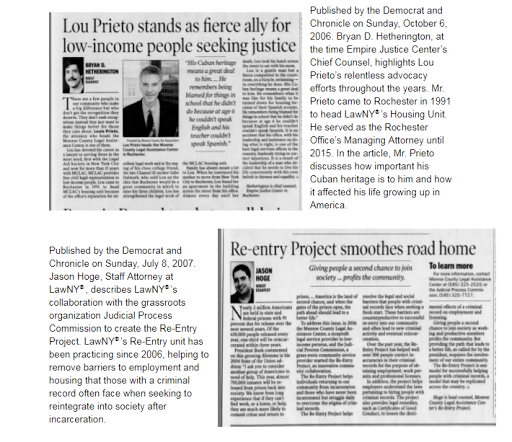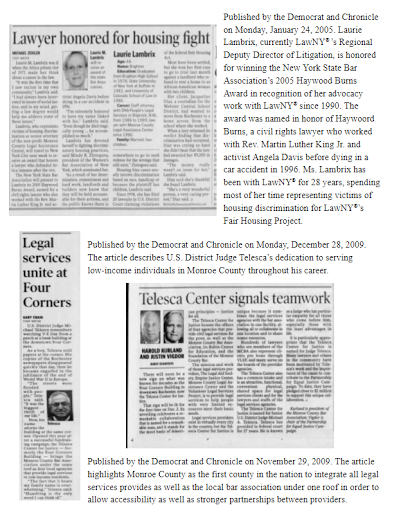 Celebrate our 50th Anniversary with us!
Follow our Facebook Page for dates and more details as they become available.
Month

Event

Description of Activities

March 2018

AmeriCorps Alumni 'Where Are They Now' Lunch

AmeriCorps Alumni of the LawNY Rochester office are invited to have lunch with our current AmeriCorps members.

 

 

April 2018

Fair Housing

A CLE on the Fair Housing Act will be offered by attorneys in our Fair Housing Project.

 

May 2018

Truth in Lending Act 50th Anniversary Workshop

 

LawNY® staff from our Regional Consumer Project will be holding a workshop offering information on a variety of consumer rights.

June 2018

Re-Entry Providers of Monroe County Meet and Greet

 

An open house at LawNY® for all re-entry providers in Monroe County. Light refreshments will provided.

July 2018

NOEP Outreach

Our Nutrition Outreach & Education Program (NOEP) coordinators will be out in the community at outreach events offering information about LawNY®'s services and history.

 

September 2018

 LawNY®'s 50th Anniversary Dinner!

Celebrate with us over dinner at the Strathallan's rooftop bar and restaurant on  September 27, 2018! Learn more about our work within the community for the past half century and help us thank our community partners for their unwavering support throughout the years.

 

September 2018

 

 Project Homeless Connect 2018

Our Eviction Prevention Unit will be attending Rochester's annual Project Homeless Connect to offer assistance to homeless individuals or those at risk of homelessness.

October 2018

 

Elder Law Fair 2018

Our Seniors Legal Services project will be attending Rochester's annual Elder Law Fair to offer assistance in estate planning, elder abuse, and more.

November 2018

Veterans Outreach Center Stand Down Event

 

Our Legal Services for Veterans Project members will be attending the VOC's annual Stand Down event to offer legal assistance to veterans.

December 2018

Navigator Open House

Our Health Insurance Enrollment Specialists will be holding an open house where attendees can receive refreshments while enrolling in health insurance if needed.