LawNY 50th Anniversary Celebration Dinner- September 27, 2018
Join us for our 50th Anniversary Dinner!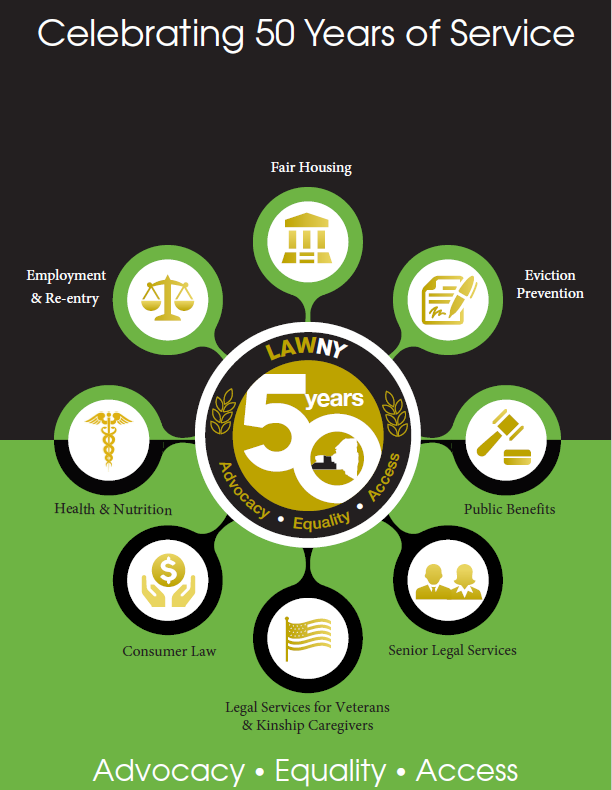 Thursday, September 27, 2018
6:00 PM – 9:00 PM
The Strathallan Hotel 
550 East Avenue
Rochester, NY 14607
Tickets: $60 per person
Tables: $600 
For the last 50 years Legal Assistance of Western New York, Inc. (LawNY), formerly known as Monroe County Legal Assistance Center, has served low income and other vulnerable populations within the community. Our services have enabled many to remove barriers to basic needs and achieve equal access to the justice system throughout 14 counties in Western New York.
We are celebrating half a century of advocacy with a special evening to honor our friends, colleagues, and supporters. Please join us to commend our past accomplishments, recognize those that currently deliver our rich programs, and look towards our future impact.
You may purchase a table or individual tickets online via the link below.
Please be advised that there is a processing fee. 
Purchase Tickets Online Here:
https://www.eventbrite.com/e/lawny-incs-50th-anniversary-dinner-celebration-tickets-46951383853
 
If you prefer to pay by check or money order please make payment to:
LawNY, Inc.
Attn: Brenda Rivera 
1 W. Main Street, Suite 400
Rochester, New York 14614
Email brivera@lawny.org to confirm your meal preference.
We appreciate your support throughout the years. Please consider honoring our 50 years of advocacy with a donation to support our vital programs and services. To make a donation, please click the link below.
Donate Here:
https://www.nycharities.org/give/donate.aspx?cc=3304